Story from I Love Manchester by Susan Griffin | 20 August 2019
Don't believe everything you see on the box. Television is smoke and mirrors, with shots carefully planned out so they can be seamlessly pieced together in editing.
It's why Brassic, the new comedy drama for Sky One, might be inspired by Joe Gilgun's experiences growing up in Chorley but is set in the fictional town of Hawley and was filmed in locations across the north west. 
"It was an ambitious shoot and there were so many different places we filmed. It was very varied and hopefully watching it, that will be evident," says location manager Jonathan Davies, who started work on Brassic last spring.
"We were given the scripts and a few of us had a meeting with Joe to talk through the feel and look of the show and to talk about which direction to go in. It's a very collaborative process to build a world that fits with the story and script. People want to feel like they're being transported into that real world of Brassic."
Here, Jonathan runs through just a few of the places you might recognise on screen, and the logistics of bringing the Brassic world to life.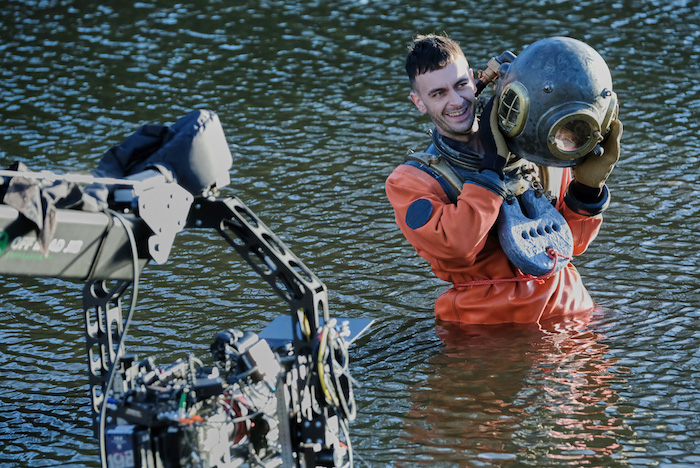 Vinnie's shack
Joe Gilgun plays Vinnie, who's spent his life fending for himself and now lives alone in a makeshift shack in the woods.
"The shack was filmed in some woods above Bolton. The director fell in love with the location before looking at how practical it was going to be to get a crew, kit and vehicles there, but it's fine because there are always ways of working it when it's the perfect location," notes Jonathan.
"There was this horseshoe of trees with established woodland and a stream running through it and then there was a clearing and you looked out.
"In the distance you can see some buildings, which suggest a town within walking distance so there's this idea that Vinnie keeps himself at a distance."
Hawley town centre
Although Joe based the idea of Brassic on Chorley, it was decided use Bacup, close to West Yorkshire, as the fictional town of Hawley for logistical reasons, and the fact it shared the same feel as Chorley.
"There's this whole idea of it being a forgotten town and forgotten people in a way, a former mill town feel where at one point there would've been quite a lot of prosperous businesses and everyone would've been in full employment," says Jonathan.
"Those people are still living there but all that industry's gone, and it's what's left behind I suppose. Bacup's not a very big town but the architecture's interesting because there are lots of gems from the Victorian period, and even some Art Deco examples around the town centre, so it's an interesting combination.
"You can see where there have been periods of wealth when the architecture has sprung up and money's been spent."
Opening car chase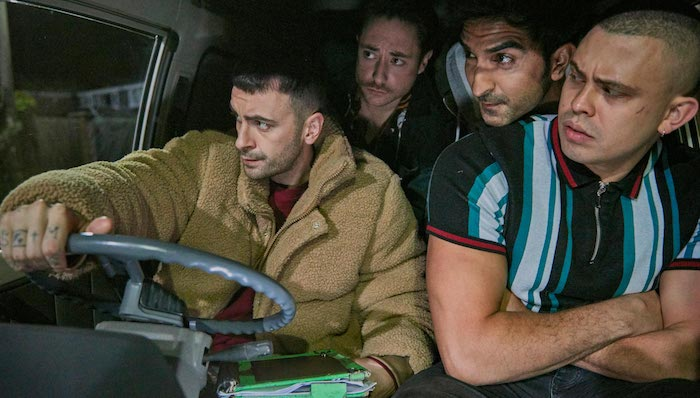 The series begins with Vinnie and his mates in a car chase as they speed through country roads.
"It wasanother piece of the jigsaw puzzle, as it was filmed just into West Yorkshire," says Jonathan. "They were roads I was familiar with because I'd done some filming there before and I knew I could go to Calderdale Council and say we want to close them.
"It was all quite full-on, not just filming a car, it was using a drone, driving through fields, all this stuff we needed to do in this same area so we closed two country roads, which joined each other eventually, which allowed us to control quite a big area of road in rural Yorkshire but it's still the Pennines so it's still got that look of Lancashire.
"We were there two days doing that scene."
The caravan site
One of Vinnie's mates, Ash, is from the traveller community and so Jonathan and the team had to get creative in constructing a temporary caravan site for filming.
"It was an interesting location, somewhere I'd seen some years ago and had used it to park some vehicles on. It's actually really close to the Etihad Stadium in the centre of Manchester, just this waste ground but with an amazing backdrop of the old gasometer, which drew the eye a little bit.
"So, we had this blank canvas and the different departments had to then dress it as caravan site and make it look real.
"We actually had to reschedule the first day we were supposed to shoot there because it was so close to the stadium and Manchester City were doing pretty well so there was a match planned that very night. It's something we couldn't really avoid."
The local pub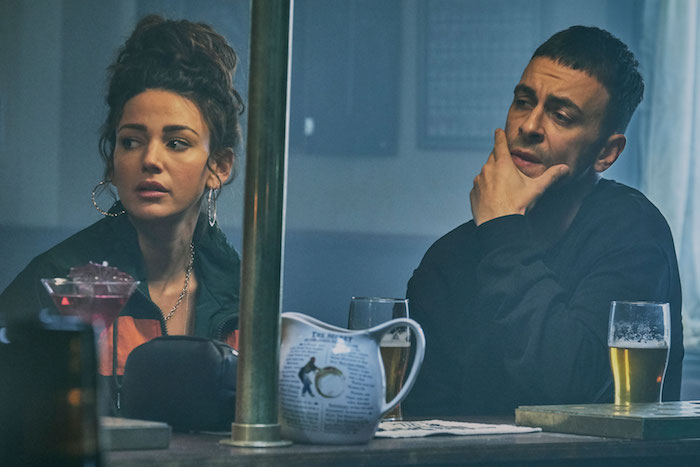 The interior scenes of Brassic's local boozer werefilmed in The Star and Garter on Fairfield Street, next to Piccadilly Station.
"That was one of the locations that had already been decided on before I'd even started on the job," says Jonathan.
"It's got that old school feel to it, which is quite unique these days when a lot of pubs have been refurbished to within an inch of their life, and a lot of them have closed as well.
"We were lucky because it's more of an evening destination pub rather than somewhere you'd just pop in for a pint and the owner's amenable to filming."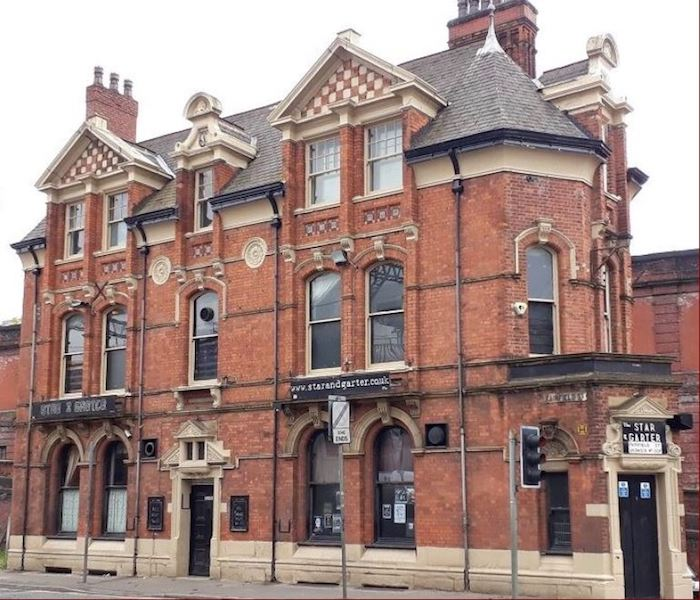 The farm and barn
In the first episode, the lads deposit their car on a farm, which crops up throughout the series. Vinnie has a hideout there and it's also where the bare-knuckle boxing fights take place in a later episode.
"It's a sheep farm ona massive hill that sort of separates Bacup and Burnley where there are quite a few windfarms. It was a great location but again a challenge to service as it was high on this hillside so it was a trek all the way up, probably about a mile long, so it's about working out how to get everyone up there and getting them back down.
"But when you see a location like that, you go, 'Wow, how can we make this work?' But it always rained."
Erin's house
Michelle Keegan plays Erin, a single mum who's dating Vinnie's best friend Dylan (Damien Molony) with lots of their scenes playing out in Erin's house.
"That was a tricky one because we were there quite a long time. The house was in Ashton-Under-Lyne, in an area just outside Ashton going towards Heartshead Pike. It's this idea that it's a town but within a five-minute walk you're in the countryside, which is quite unique to the north of England," says Jonathan.
"We looked at a few places and the director said he liked the way it wasn't all flat there, and the roads fell away so you get the suggestion you're above a town, which makes it more interesting  than just an estate on the flat which could be anywhere.
"We found the housing estate first and then it was a case of finding someone who was willing for us to film. You drop off nice polite letters, and see who gets in touch, and then there's a shortlist and you find the house, which is most suitable."
The surgery
Vinnie is bipolar and during the series we see him pop in to see his doctor, played by Dominic West.
"The 'surgery' is actually a second-floor room in the Frederick Road Campus at Salford University," reveals Jonathan.
"We filmed those scenes at this time of year and because it wasn't term-time, there were fewer people, so it was fairly quiet and just fit the bill. But just had to work around when Dominic was free to film."
The sewer scenes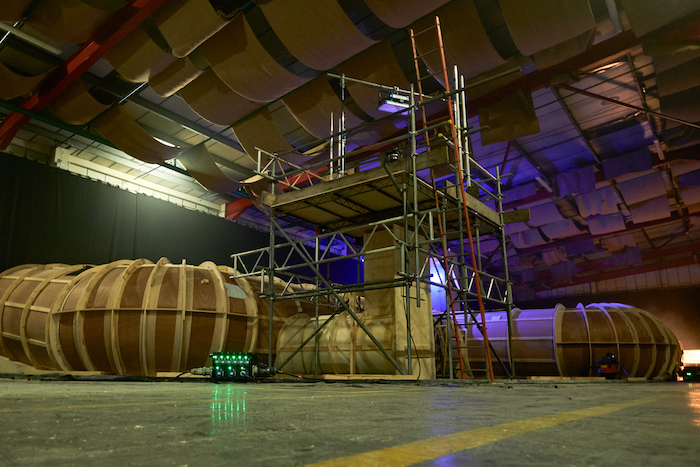 In episode two, Vinnie and his mates to try to steal some money to give one of their friends the funeral they deserve, and their plan sees them working their way through the town's sewers. These scenes were filmed in a studio at The Sharp Project, which was also the base for production.
"We did some studio work but most of it was out on location. I know Greater Manchester pretty well because I've done a few jobs here, and I was keen to stay out of central Manchester because it's just so busy now," explains Jonathan.
"We were based at The Sharp Project, which is in the Newton Heath area, as I was trying to avoid having to drive through or around the centre of Manchester to get to these locations and it was a good match going out towards the Pennines."
All episodes of Brassic are available on Sky and NOW TV from Thursday 22nd August.