The third series of Paul Abbott's award-winning Channel 4 series NO OFFENCE returns this week with the brilliant and unbreakable crime fighting family of Friday Street coppers in 6 brand new episodes.
The extremities of DI Viv Deeringís (Joanna Scanlan) world are governed not only by thugs, but by politicians too. Same goes for all of us. In our crowded world enemies can be almost invisible. Deering and her team adopt equally covert tactics to expose a few bare-faced truths.
Filmed across Manchester, AbbottVision made extensive use of the cities' outdoor and indoor locations.
Paul Abbott says: ìSeries 3 is about the void left by political parties, clusters of ignorance streamlined in to soldier ants. Whether it's a real or perceived void doesn't matter. Predators will always exploit a weakness. Viv Deering really earns her wages in making her voice heard to diverse cultural factions.î
The fabulous three return: ìletís not pigeon shit all over the factsî Deering (Joanna Scanlan), impulsive DC Dinah Kowalska (Elaine Cassidy) and astute DS Joy Freers (Alexandra Roach). At their sides in the crumbling Friday Street cop-shop are the adrenaline fuelled team: moral compass DC Spike Tanner (Will Mellor), genius Miller (Paul Ritter); and the uniforms big hearted Jonah (Ste Johnston), switched on Stuart (Tom Varey), force of nature Tegan (Saira Choudhry), off-the-wall Dr Peep (Kate OíFlynn) and gentle office manager Gavin (Conor MacNeill). Swooping in to micromanage the Friday Street team is the sharp new Superintendent Marilyn Merchant (BAFTA-nominated Claire Rushbrook ñ My Mad Fat Diary, Home Fires, Whitechapel). They're having to play smarter than ever to keep the lid on a city at fragile breaking point.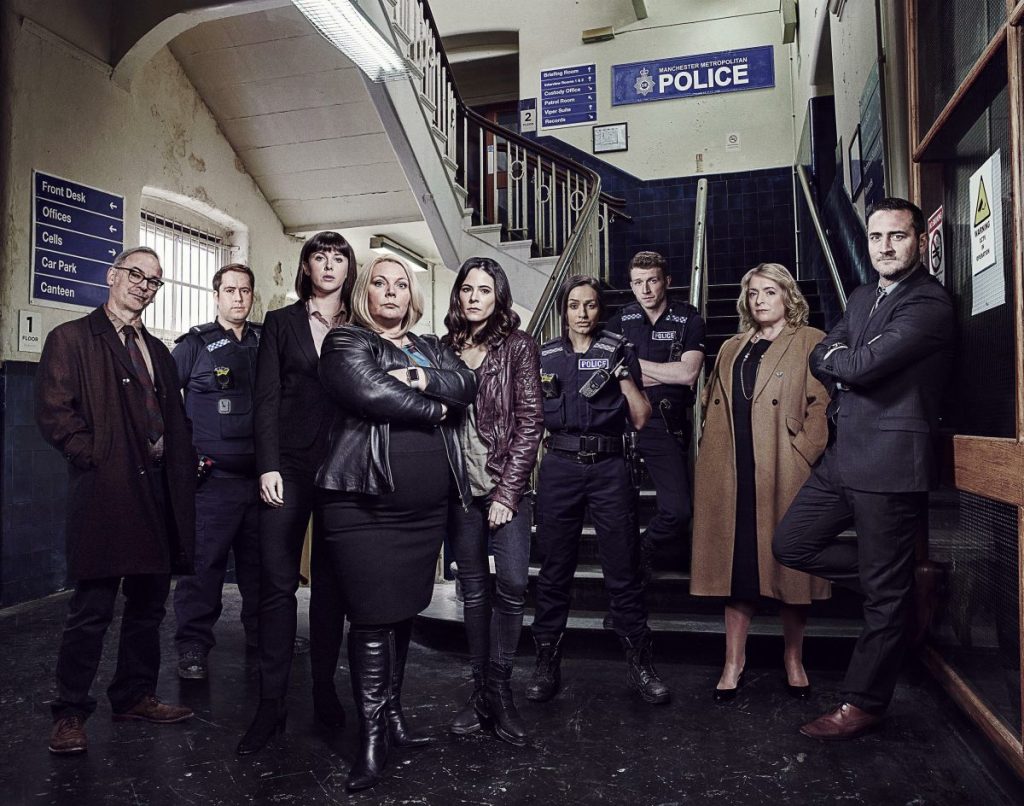 Mayoral hustings in Cinderly, an inner-city area of Manchester, is a tinderbox ready to ignite. Fuelling the chaos in the community is leader of the extreme Far Right group Albion, Dennis Caddy (Neil Maskell ñ Utopia, Humans, The Mimic), his outspoken girlfriend Bonnie (Tamara Lawrance ñ Cordelia, Ian McKellenís King Lear CFT; Viola ñ Twelfth Night RNT) and his mouthy sister Faye (BAFTA Scotland-winning Sharon Rooney ñ My Mad Fat Diary, Two Doors Down, Brief Encounters).
The febrile atmosphere in Cinderly ignites as the mayoral candidate anti-establishment, local girl-done-good politician Caroline McCoy (Lisa McGrillis ñ Inspector George Gently, Mum, Hebburn) goes head to head for the high-stakes electoral ward, with woolly liberal Mayor Kashif Hassan (Ace Bhatti ñ Love, Lies And Records, EastEnders). In their midst is the master puppeteer, mercenary Far Right fanatic Ralph Beckett (Darren Connolly ñ Moorside, Peaky Blinders), forcing Viv and the team to fight toe to toe as he wages his war on both the cops and culturally-vulnerable targets ñ with devastating consequences.
Viv and Friday Street find themselves pawns in a political chess match, which is the last thing they need as incidents of hate crime soar in the city. Clashing once more with the underworld and the upper brass alike, Vivís never had it so tough and finds she must deploy every weapon in her arsenal to keep her team together and restore peace to a community wracked with political and xenophobic uncertainty.
Further casting includes: Patrick Baladi (Marcella, Stella, The Office), Phil Dunster (Murder On The Orient Express), Dave Johns (Title role in I, Daniel Blake), Bethany Black (Cucumber, Banana and Tofu), Charlotte Harwood (Deep State, Doctors), Kate Coogan (Emmerdale), Nigel Lindsay (Victoria, Four Lions), Elizabeth Lomas as Dinah's now wayward teenager Tessa and 15 year old Sophie Andrews as Miller's daughter Lena.
NO OFFENCE is written and created by Paul Abbott and produced by his company AbbottVision. Executive Producers are Paul Abbott, Martin Carr and Paul Coe for AbbottVision; with Philip Leach as Producer. Directing episode 1 and 3 is Catherine Morshead (No Offence, Fungus The Bogeyman), Rob Quinn (DCI Banks, Jekyll And Hyde) directs episodes 2 and 4 and Misha Manson-Smith (Kiss Me First, Barbados) directs episodes 5 and 6. Head of Channel 4 Drama is Beth Willis, Commissioning Editor is Lee Mason and Commissioning Executive is Jonny Richards. Writers: Paul Abbott, Paul Tomalin, Tom Grieves and Julie Rutterford.