Manchester Town Hall and the John Rylands Library can be seen doubling as WWII-era Houses of Parliament in new feature film 'Darkest Hour'.
Starring Gary Oldham (The Dark Knight, Tinker Tailor Soldier Spy), 'Darkest Hour' follows the Prime Minister as he faces one of his most turbulent and defining trials: exploring a negotiated peace treaty with Nazi Germany, or standing firm to fight for the ideals, liberty and freedom of a nation.
Directed by Joe Wright and written by Anthony McCarten, 'Darkest Hour' is produced byWorking Title Films.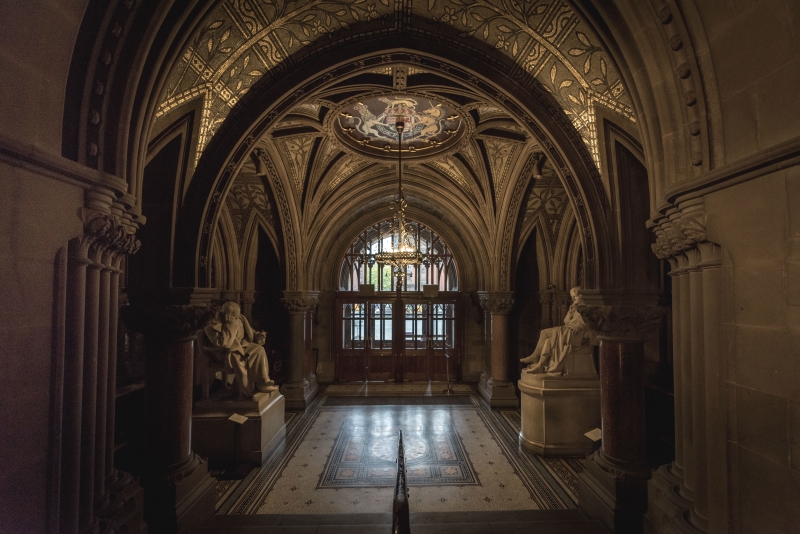 The Working Title Films production team chose Manchester Town Hall and John Rylands Library, to film key scenes in the film, recreating the Houses of Parliament in 1940. The locations offered the perfect period back drop and with permissions secured and Manchester's long established film friendly approach to film & TV production, it ensured to the crew having a hugely positive experience of filming in the city.
In recent years, Manchester Town Hall and John Rylands Library have played host to a wide range of film & TV production including; Peaky Blinders (Tiger Aspect Productions/Caryn Mandabach Productions for BBC), The Iron Lady (DJ Films), Limehouse Golem (Number 9 Films), Victor Frankenstein (Fox UK Production Ltd), Sherlock Holmes (Warner Bros), the soon to be released feature film, Tolkien (Fox Searchlight Pictures) and the TV drama A Very English Scandal (Blue Print Pictures for BBC).
The recent increased amount of TV and film production in Manchester has seen the establishment of an official film office, Screen Manchester, to provide support for location filming in the city.
The experienced Screen Manchester team have worked on a range of high end TV, feature film and commercial productions and will provide a detailed service which includes; location finding, permissions and liaison, road closures and traffic management clearance and links to sourcing local crew and facilities.
'Darkest Hour' Location Manager Joe Cairns (Working Title Films) said "Manchester has a diverse range of period locations and in the Darkest Hour this was highlighted perfectly with our filming at Manchester Town Hall and John Rylands Library. Our director and production designer were keen to use both locations to double as the Houses of Parliament to complement our chamber set build, seamlessly creating the illusion of the real location in wartime 1940.
We were met with such a warm welcome and the ease of filming at both busy city centre locations made the production's experience in Manchester an extremely positive one. To now have Screen Manchester, which is the dedicated film office for the City of Manchester, further develops the city's strong commitment to supporting film & TV production and the clear understanding of the huge investment it can add to the local economy".
Bobby Cochrane, Development Manager, Screen Manchester, added "Screen Manchester was set up to provide support to film and TV location filming within the city so we're delighted to see such so many productions choosing to film in Manchester. The service we provides covers everything from sourcing locations to assisting with road closures to liaising with police and residents, essential support to make Manchester a film friendly city"
'Darkest Hour' is now on nationwide cinema release
'Darkest Hour' also stars Kristen Scott Thomas (The English Patient, Four Weddings and a Funeral) as Clemmie, Ben Mendelsohn (Rogue One: A Star Wars Story, The Dark Knight Rises) as King George VI, Lily James (Cinderella, Baby Driver) as Elizabeth Layton and Ronald Pickup (The Best Exotic Marigold Hotel, The Day of the Jackal) as Neville Chamberlain.