At the end of a challenging year for the Film and Television Industry there comes encouraging news from Screen Manchester, the City's Film Office.
"Earlier this year it was very difficult to predict where the lockdown would lead," says Bobby Cochrane of Screen Manchester. "The Industry has proven itself to be extremely resilient and has responded well to new national protocols introduced which allowed business to resume. We welcomed our first projects back to the streets of Manchester in late June which was extremely encouraging all things considered and we have been working hard to keep production going in line with guidelines ever since".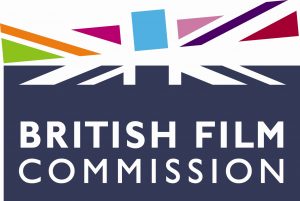 Cochrane, who has played a key role in making the connection between government and industry (via the BFC) at a local level adds, "The British Film Commission were really responsive in producing clear guidance for film and high end TV drama and doing so in a timely manner. During this process Screen Manchester liaised with production and provided feedback directly to the BFC on the proposals as they emerged. Film and TV has been in the fortunate position of being able to continue, following strict safety procedures, and it has been great to be in a position to keep a key industry working safely at such a difficult time."
Bobby and his team also worked along with regional location managers, line producers and producers on a day to day basis overcoming various challenges from new ways of working. As a result Screen Manchester has, since the first Lockdown ended, facilitated permit applications across the city for new police drama Viewpoint (Tiger Aspect Productions for ITV), 1960s set Ridley Road (Red Production Company for BBC) as well as two returning series Brassic (Calamity Films for Sky) and Cobra (New Pictures for Sky).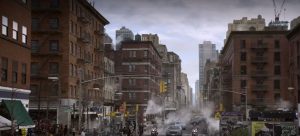 Viewpoint was the first drama back on camera in Manchester and assistant location manager Ian Macdonald says of the experience of working with Screen Manchester, "I cannot thank Screen Manchester enough for all of their help during the filming of "Viewpoint", from the usual excellent service provided pre-Covid to the advice, guidance, and assistance given once restrictions were lifted. Screen Manchester helped us to liaise with landowners, residents, councillors, and highways to ensure that our filming plans and protocols were acceptable. They went above and beyond to help make specific key and ambitious filming locations work, both for us and for the general public.
Being from Manchester I am extremely proud of the positive reception we received from the city. Especially the hugely encouraging response when we resumed our filming in August during such challenging times for everyone. The enormous efforts the production made to ensure a Covid-safe and compliant workplace were only matched by the support from Screen Manchester and the city in general. I would not hesitate to promote Manchester as a filming destination."
Looking ahead to the new year, currently in pre-production and ready to shoot from early 2021 are the new series of global hit, Peaky Blinders (Caryn Mandabach/Tiger Aspect Productions for BBC) and Stay Close (Red Production Company for Netflix).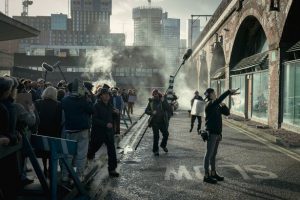 Manchester continues to provide a cost effective and desirable location for international broadcasters and producers. Space Studios Manchester has become one of the most sought after facilities in the UK for producers making high end content and has announced this year plans to expand the site with the addition of two new 20,000 sq ft stages, taking the overall stage space available on site to over 120,000 sq t across 8 purpose built sound stages.
Manchester has featured prominently this year on screen in a host of shows which have kept viewers gripped during lockdown. These include Netflix hit The Stranger, Sky's Little Birds, BBC One's LIFE and Netflix's ever-popular The Crown and next year Sony Pictures' blockbuster Morbius, starring Jared Leto which filmed in The Northern Quarter will finally make it to screen.
Other new series filmed in Manchester set to transmit in 2021 include Intergalactic (Moonage Pictures for Sky), The Boys (Red Production Company for Channel 4), The Irregulars (Drama Republic for Netflix) and The Barking Murders (ITV Studios for BBC).